Central Office Air Delivery
Emergency Air Delivery Access Cabinet (P/N 9800-0905)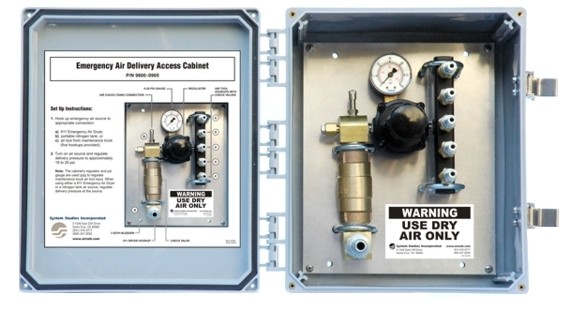 The Emergency Air Delivery Access Cabinet (EADA) is a rugged, hinged plastic enclosure designed for installation on an accessible exterior central office wall. It offers an outside access point for emergency CO panel air delivery. The cabinet contains an Emergency Air Feeder Assembly (Part No. 9800-0901), which includes fittings to accommodate incoming air feed from a System Studies 911 Emergency Air Dryer (Part No. 9800-0911), a portable nitrogen tank, or a maintenance truck air tool (five fittings provided, each with a check valve). The Emergency Air Feeder Assembly also includes a 0-30 psi gauge and pressure regulator to adjust delivery pressure for the truck air tool hookups.
The cabinet is supplied with pre-drilled 1/4 inch holes for mounting the unit to a vertical exterior wall surface. Air delivery from the cabinet to the central office panels is achieved using one inch nyla-braid poly (PVC) tubing. The one inch tubing is connected to the Emergency Air Feeder Assembly through the back of the cabinet via a 3/4" NPT-M barbed connector fitting. The one inch tubing is routed through the exterior and interior walls of the CO to the central office balance manifold. Pressurized air from the CO manifold (approximately 18 to 20 psi) is fed back through the one inch tubing to the Emergency Air Delivery Access Cabinet. A bleeder valve installed on the cabinet's Emergency Air Feeder Assembly permits a steady flow of air (approximately 3 SCFH) to escape from the pressurized tubing and out to atmosphere. The constant air flow keeps the one inch tubing and cabinet interior dry when not in use.
For more information, check out the product's
data sheet
.