Central Office Panels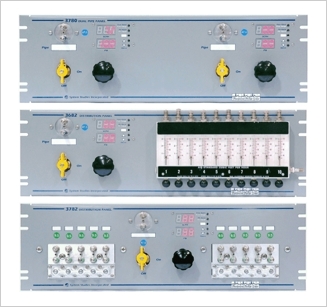 Digital Panels
System Studies offers four impressive central office digital panels: both a single and dual pipe panel, and two types of distribution panels. These panels supplement the remote monitoring capability of the High Resolution Dual pressure/flow) Transducers with independent alarming of low pressure and high flow. The new panels, which are powered by a source of -24V DC, contain a dual digital panel meter that provides highly visible 3-digit displays of both delivery pressure and total air consumption. This digital output is linked directly to the panel's transducer readings.
Surface controls provide the means for setting high flow alarms, changing flow range output, calibrating pressure based on site altitude variations, and silencing alarms. Flush mounted push-button controls, used individually or in combination, provide intuitive adjustment capability and protection against accidental disruption of set values. The Digital Display Panels provide simplified contact alarm and transducer wiring to the 289H LSS connector block. In fact, when ordered as part of a custom rack assembly, device pairs and -24V DC power supply are pre-wired for quicker installation.
Check this
document
for summary information about the digital panels. For additional information about the individual panels and available power supplies, please refer to our Digital Panel
data sheet
. Or, if you need to make adjustments to the LED display settings, view our
Instructional Videos
. They'll help to simplify the process.