Hydrogen Leak Detector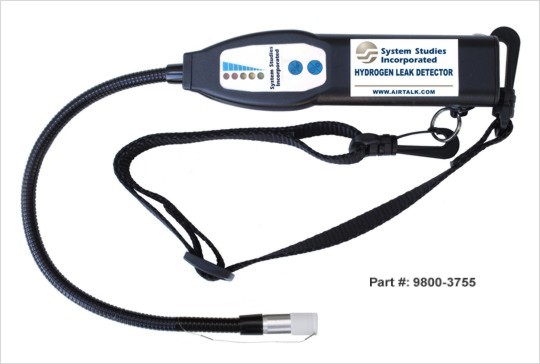 One of the more recent additions to the growing list of leak locating tools offered by System Studies is our Part No. 9800-3755 Hydrogen Leak Detector. This relatively small, light-weight instrument provides you with additional flexibility when looking for those "impossible to find" pressurized cable leaks. The tool is used in conjunction with a commercial-grade nitrogen/hydrogen tracer gas mix to "sniff out" leaks in localized sections of pressurized cable.
Originally designed for use in the automotive industry, this tracer gas sensing instrument is also ideally suited for pressurized cable maintenance. It has the ability to detect, with exceptional speed and accuracy, the small, extremely light hydrogen molecules that travel inside the pressurized cable from the tracer gas input location to the leak. When tracer gas is detected along the surface of a cable sheath or spice case, the Hydrogen Leak Detector provides both a visual and audible signal that gas is escaping from the cable—allowing you to accurately verify the location of the leak.
The detector measures hydrogen concentrations in the ambient air from 0 to 300 parts per million. Its response time is a remarkable one to two seconds, and it provides five hours of operation on a fully charged set of batteries. Battery charger, ear plug and jack, wrist strap, plastic carrying case, and complete operating instructions are provided with shipment.
For detailed specitications and information about the tracer gas used, please refer to the product
data sheet
.