Flow Direction Gauge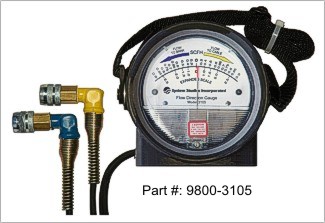 The Flow Direction Gauge is a manual air flow measurement device that provides both an accurate air flow reading and an indication of the direction of air flow. This information is used for leak locating in the Flow Bank System. The gauge is supplied with two quick-connect samplers (which greatly simplify the reading process), a carrying strap and a case. The Flow Direction Gauge can be ordered with measurements in either Standard Cubic Feet per Hour (SCFH) or Liters per Hour (LPH). (Note: Unless specified the gauge is supplied in SCFH.)
Flow Direction Gauge Display
As you can see in the illustration below the face of the Flow Direction Gauge consists of a normal scale and an expanded scale. When the gauge's needle points to the left, it indicates that air is flowing from the cable into the Flow Bank and back out to a cable(s) through one of the other Flow Bank ports. The opposite is indicated when the needle is positioned to the right of zero. The rate of flow is indicated on the top scale, unless it exceeds 0.9 SCFH. When the needle is pegged to either side, pressing the "times two" button on the top of the gauge will allow you to read the flow rate indicated on the lower scale (up to 2.5 SCFH).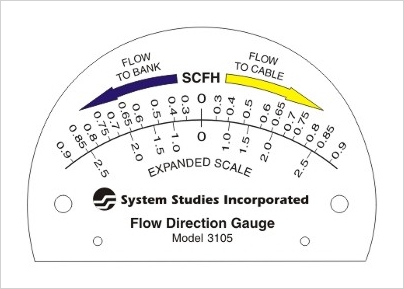 Flow Direction Gauge Components
The illustration above shows the components supplied with the Flow Direction Gauge. The gauge is housed in a protective rubber case with an adjustable carrying strap. Six feet (183 cm) of twin tubing connects the gauge to the two-port flow sampler. Quick-connect fittings are supplied on the flow samplers to ensure a leak-free connection when measuring flow direction at the Flow Bank. A "times two" button located on the top of thee gauge makes it possible to extend the reading range of the gauge, when necessary.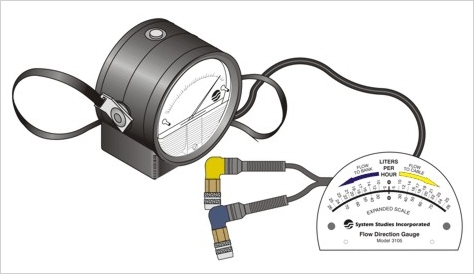 Please refer to our
data sheet
for more information about the Flow Direction Gauge.