Ultrasonic Leak Detector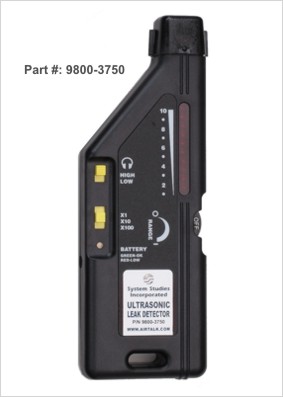 System Studies' Ultrasonic Leak Detector (Part No. 9800-3750) is yet another specialized tool to assist in your leak locating efforts. This tool makes it possible to detect small leaks that emit an ultrasonic signal—the type of sound that cannot be heard by the unaided human ear. These leaks are created when air or gas under pressure is forced through a small opening, such as a cable sheath or splice case. When the ultrasonic leak detector is directed toward a potential leak, it converts the ultrasonic sound emission to a frequency range that can be heard through standard headphones.
The Part No. 9800-3750 Ultrasonic Leak Detector is shipped with a plastic carrying case that includes the ultrasonic leak detector with a protective nylon cover (for field use), a pair of headphones and a male/male jack cable, a parabola (or cone) to help isolate the ultrasonic signal, and a tubular sensor horn extension. The detector measures 7.3 in (185.4 mm) long by 2.5 in (63.5 mm) wide by 1.0 in (25.4 mm) thick, and it is powered by a standard 9-volt battery. Approximate weight of the unit is 6.3 oz (180 grams).
For additional information, refer to the Ultrasonic Leak Detector
data sheet
.